Дослідження впливу Н<sub>2</sub>О<sub>2</sub> та метіоніну на лігандні форми мембранозв'язаного гемоглобіну еритроцитів людини
Ключові слова:
окисний стрес; метіонін; еритроцити; лігандні форми гемоглобіну; мембранозв'язаний гемоглобін
Анотація
Досліджено вплив Н2О2 та метіоніну на стан мембранозв'язаного гемоглобіну еритроцитів людини. Показано, що метіонін суттєво впливає на розподіл і кількісне співвідношення лігандних форм гемоглобіну мембранозв'язаної фракції в умовах перекисного навантаження. Збільшення концентрації метіоніну приводить до накопичення met- і deoxy-форм гемоглобіну у мембранозв'язаній фракції. Отримані результати свідчать про залученість гемоглобіну до метаболічних процесів за участю метіоніну, зокрема у взаємодію з сірководнем.
Посилання
Hemoglobin autoxidation and regulation of endogenous H2O2 levels in erythrocytes / R. M. Johnson, G. Jr. Goyette, Y. Ravindranath, Y. S. Ho. Free Radical Biology & Medicine. 2005. Vol. 39. P. 1407–1417.
The Influence of Oxidative Stress and Natural Antioxidants on Morphometric Parameters of Red Blood Cells, the Hemoglobin Oxygen Binding Capacity, and the Activity of Antioxidant Enzymes / V. V. Revin, N. V. Gromova, E. S. Revina, A. Y. Samonova, A. Y. Tychkov, S. S. Bochkareva, A. A. Moskovkin, T. P. Kuzmenko. BioMed Research International. 2019.
Кулинский В. И., Колесниченко Л. С. Система глутатиона I. Синтез, транспорт, глутатионтрансферазы, глутатионпероксидазы. Биомедицинская химия. 2009. Т. 55. Вып. 3. С. 255–277.
Космачевская О. В., Топунов А. Ф. Гемоглобины – разнообразие структур и функций (обзор). Прикладная биохимия и микробиология. 2009. Т. 45. № 6. С. 627–653.
Іncrease of atp level in human erythrocytes induced by s-adenosyl-l-methionine / M. Nobuji, K. Kazunori, S. Misuzu, S. Takeshi. Department of Physiology, School of Medicine, Ehime University, Shigenobu, Omen-gun, Ehime, Japan. 1986. P. 791–802.
Methionine adenosyltransferase activity in erythrocytes and spinal cord of patients with sporadic amyotrophic lateral sclerosis / T. Ekegren, H. Askmark, S. M. Aquilonius, C. Gomes-Trolin. Experimental Neurology. 1999. Vol. 158. Iss. 2. P. 422–427.
Metabolism of Sadenosyl-L-methionine in intact human erythrocytes / J. R. Barber, B. H. Morimoto, L. S. Brunauer, S. Clarke. Biochimica et Biophysica Acta. Department of Chemistry and Biochemistry and the Molecular Biology Institute, University of California, Los Angeles, CA 90024 (U.S.A.). 1986. Vol. 887. P. 361–372.
Lou L. L., Clarke S. Carboxyl methylation of human erythrocyte band 3 in intact cells. Relation to anion transport activity. Biochemical Journal. Department of Chemistry and Biochemistry and the Molecular Biology Institute, University of California, Los Angeles, CA 90024, U.S.A. 1986. Vol. 235. Iss. 1. P. 183–187.
Chen H.-J. C., Ip S. W. Age-Associated Methylation in Human Hemoglobin and its Stability on the Dried Blood Spots as Analyzed by Nanoflow Liquid Chromatography Tandem Mass Spectrometry. Chemical Research in Toxicology. 2018. Vol. 31. Iss. 11. P. 1240–1247.
Filip C., Zamosteanu N., Albu E. Homocysteine in Red Blood Cells Metabolism – Pharmacological Approaches. Blood Cell – An Overview of Studies in Hematology / edited by Terry E. Moschandreou, IntechOpen. 2012. DOI: 10.5772/47795. URL: https://www.intechopen.com/books/blood-cell-an-overview-of-studies-in-hematology/ homocysteine-in-red-blood-cells-metabolism-pharmacological-approaches
Диагностика гемоглобинопатий с помощью компьютерных медицинских систем / Э. И. Насыбуллина, В. Г. Никитаев, А. Н. Проничев, В. Н. Блиндарь, О. В. Космачевская, А. Ф. Топунов. Москва: Институт новых информационных технологий. 2015. 408 с.
Attia A. M. M., Аboulthana W. M., Аziz S. W. А simple accurate multi-component spectrophotometricmethod for simultaneous determination of total hemoglobin and four clinically significant hemoglobin derivatives in human and rat blood. Romanian Journal of Biophysics. Bucharest. 2019. Vol. 29. Iss. 4. P. 123–140.
Dissection of the radical reactions linked to fetal hemoglobin reveals enhanced pseudoperoxidase activity / K. Ratanasopa, M. B. Strader, A. I. Alayash, L. Bulow. Frontiers in physiology. 2015. DOI: 10.3389/fphys.2015.00039
Peroxiredoxin 2, glutathione peroxidase, and catalase in the cytosol and membrane of erythrocytes under H2O2-induced oxidative stress / S. Rocha, D. Gomes, M. Lima, E. Bronze-da-Rocha, A. Santos-Silva. Free Radical Research. 2015. Vol. 49. Iss. 8. P. 990–1003.
Determination of HumanHemoglobin Derivatives / A. M. M. Attia, F. A. A. Ibrahim, N. A. Abd El-Latif, S. W. Aziz, S. A. Abdelmottaleb, Moussa, Mohsen Elalfy S. Hemoglobin. 2015. Vol. 39. Iss. 5. P. 371–374.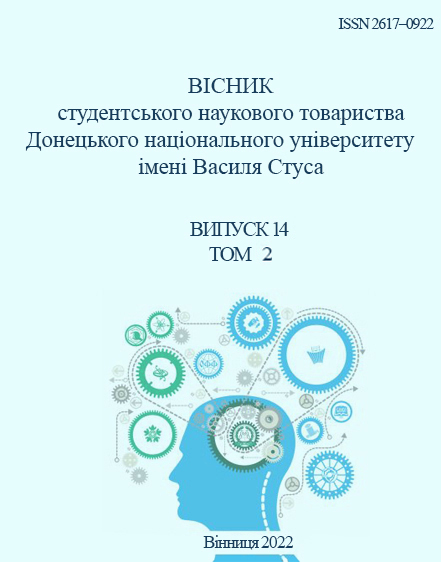 ##submission.downloads##
Розділ
Природничі та технічні науки