Celebrity diplomacy in Ukraine's national branding after the full-scale Russian invasion of Ukraine
Ключові слова:
celebrity diplomacy; national branding; public diplomacy; image of Ukraine; Ukraine
Анотація
The article examines celebrity diplomacy in the context of improving Ukraine's international image after the start of a full-scale war with Russia. The research methodology consists of a complex of interconnected modern general scientific and special methods and approaches, which are presented by the use of analysis of the policy problem, synthesis of research results, the case method for outlining practical measures for the formation of the national brand of Ukraine and media monitoring to study the activities of celebrities as participants in public diplomacy. It was established that celebrity diplomacy helped to develop the image of Ukraine in the world and to keep the topic of the RussianUkrainian war relevant on the international agenda.
Посилання
Anholt S. Competitive identity: The new brand management for nations, cities, and regions. London: Palgrave Macmillan, 2007. 134 p.
White Paper on Intercultural Dialogue «Living Together As Equals in Dignity». 118th sess; Strasbourg, 7 May 2008. The Council of Europe Ministers of Foreign Affairs. URL: http://surl.li/fswkq
Nye J. S. «Soft power»: The Means to Success in World Politics. New York: Public Affairs, 2004. 208 p.
Public diplomacy strategy of the Ministry of Foreign Affairs of Ukraine 2021–2025. Ministry of Foreign Affairs of Ukraine URL: http://surl.li/bgpmb
Cooper A. F. Celebrity Diplomacy. Colorado: Paradigm Publishers, 2008. 150 p.
Kwan M. Celebrity Diplomacy: What prompted Biden to invite the K-pop group BTS? Modern Diplomacy. June 8, 2002. URL: http://surl.li/frsox
Flashmob mit Selenski-Tanzpartnerin. Wien.ORF.at. July 11, 2022. URL: https://wien.orf.at/stories/3164430/
Lynch K. Arsenal star Oleksandr Zinchenko wins prize for his protests against Russia's invasion of Ukraine. Mail Online. November 11, 2022. URL: http://surl.li/frsoz
Angelina Jolie makes surprise visit to Ukraine. The Guardian. April 30, 2022. URL: http://surl.li/frspf
Savage M. Pink Floyd reunite for Ukraine protest song. BBC. April 8, 2022. URL: https://www.bbc.com/ news/entertainment-arts-61037080
Specter E. How Mila Kunis, Gigi Hadid, Blake Lively, and More Celebrities Are Using Their Platforms to Help Ukraine. Vogue USA. March 21, 2022. URL: http://surl.li/frspk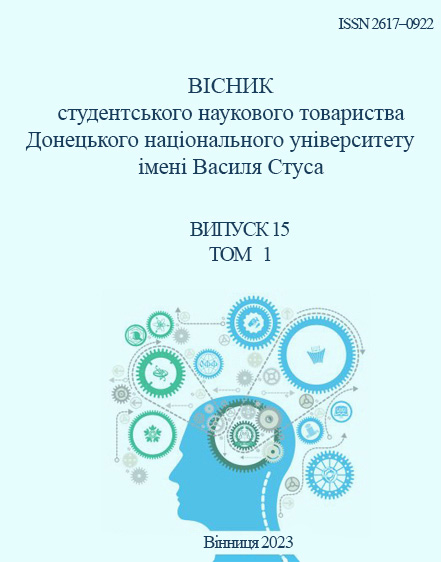 ##submission.downloads##
Розділ
Історія та міжнародні відносини